Factory-Built Upgrade
Crystalmark offers the dental profession the ability to upgrade equipment originally sold and marketed by the now nonexistent Kreativ Corporation. Equipment that can be upgraded includes the Kreativ Mach 4 and 5 machines. An upgrade is also available for the very early Crystalmark Abradent DV-1 units . These upgrades provides the following improvements for these old-generation machines:
Much lower powder consumption: up to five times less.
Lowered powder consumption means even less powder mess.
Smoother, non-pulsed operation.
Built-in, membrane air drying and conditioning system means no problems regardless of air supply.
Two instead of the conventional three pinch valves; fewer maintenance items.
The modifications entail the following list of items:
Unit is cleaned and disassembled.
Old hoses removed
Bottom pinch valve is removed.
Installation of grommets for new hosing.
Disassemble, clean and rebuild existing pinch valves.
Install and plumb-in new check valve, membrane air dryer and coalescing hydrocarbon filter.
Change the orifice plate and reinstall the control panel.
Replace any worn parts and hoses.
Retune the vibrator.
Checked for air leaks.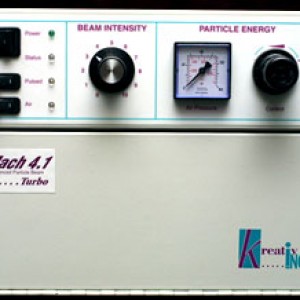 Kreativ Mach 4
Eligible for equipment upgrade. Pulse operation is no longer necessary after upgrade.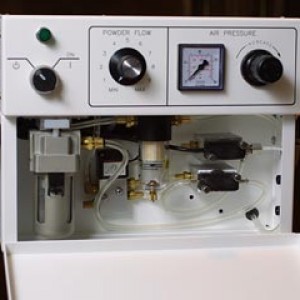 CrystalAir
Note hydrocarbon filter and two pinch valves (instead of three). This is part of the upgrade package.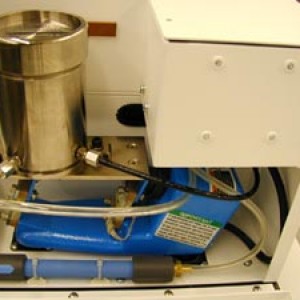 CrystalAir
Rear compartment. Displays cylindrical membrane air dryer that is part of the Mach4 upgrade package.